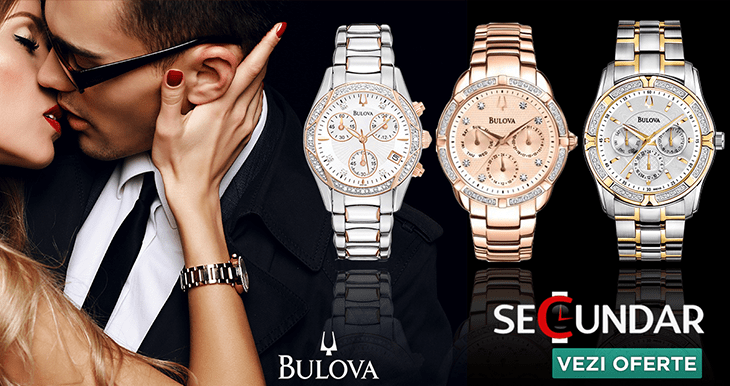 At the Secundar store in Supernova Drobeta you can find watches, jewellery, perfumes, and sunglasses for you and your loved ones!
Are you looking for a special gift for a family member or friend?
Secundar store is here for you!
Men's watches can be found in thousands of available options, depending on the preferred brand, clothing style, material, colour and thickness of the case, as well as criteria such as its type of mechanism or its country of origin.
Swarovski's jewellery sets are definitely a valuable addition to any woman's jewellery box. Whether it's earrings, necklaces, bracelets or shiny silver rings, at the Secundar store in Supernova Drobeta you will find everything you want for your own collection or to bring a smile upon a friend's face. Guess brand jewellery has special designs and can be easily worn in everyday life to give elegance to your outfits.
Do you want a fresh and modern look? In the collection of Just Cavalli eyeglass frames in various shades and sizes, you will find an accessory that will make you stand out. In the varied offer of women's watches from the Secundar store in Supernova Drobeta, there are options that are suitable for any occasion, whether you want to wear them to work or to match a casual outfit. All products sold by this brand are of high quality and will ensure you a perfect look!
Fragrances for him and her from Secundar
Are you looking for a new perfume? The store staff is ready to assist you in finding the right product for you. In the Supernova Drobeta Secundar store's offer, you will be able to choose from famous brands such as Armani, Cartier, Burberry, Chanel, Chloe, Carolina Herrera or Cacharel, so that you can discover your favourite scent or offer an unforgettable gift.
We are waiting for you at the Secundar store in Supernova Drobeta with high quality perfumes, jewellery and watches!
The best gift ideas from Secundar
Secundar you a wide variety of products for yourself or to offer as a gift to your loved ones. Here you will find watches and perfumes for women or men, sunglasses, silver jewellery, and other decorative accessories for the home.
This company aims to sell quality products from internationally recognized brands such as Guess, Swarovski, Esprit, DKNY, and many more for the satisfaction of its customers.